OVHcloud named as a Contender in IDC MarketScape: Worldwide Public Cloud Infrastructure as a Service 2020 Vendor Assessment
---
The IDC MarketScape report assessed and selected OVHcloud among 8 companies operating on the public cloud market. The criteria for this study are based on a strict evaluation grid: the variety of services offered by the companies, as well as their size and global footprint. The IDC MarketScape methodology helps evaluate vendors and advise IT buyers to choose the right public cloud technologies.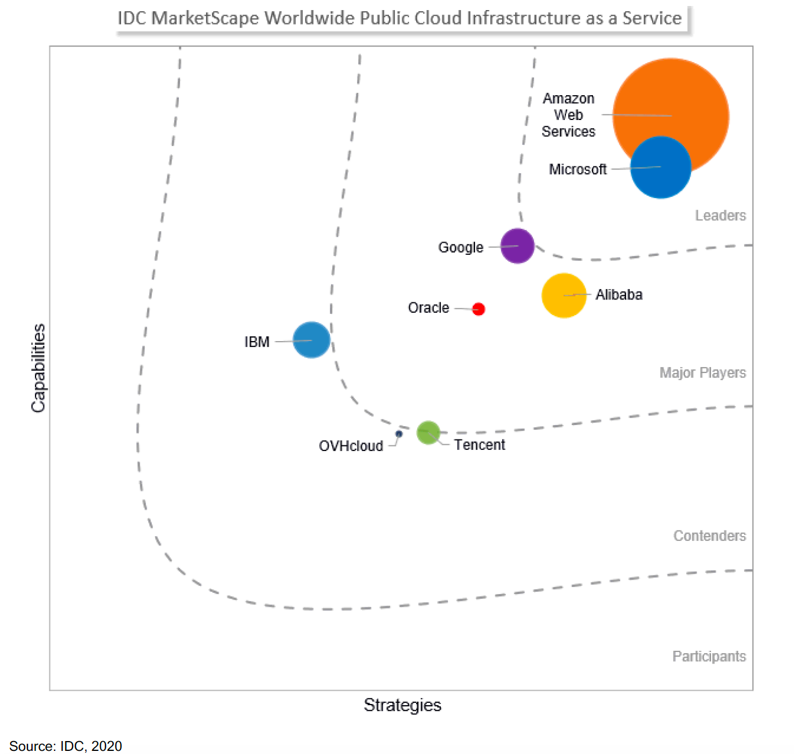 One of OVHcloud's strengths highlighted in the study, lies in a complete portfolio of IaaS solutions that include dedicated servers and private cloud, in addition to its public cloud offering.
Positioned on a transparent, predictable and competitive model, this range of solutions helps develop a strong and recognized value proposition in the cloud market. OVHcloud's public cloud offering stands out for its compliance with the values of data sovereignty as enacted by the European legal framework on data protection.The study finally notes that OVHcloud has invested in a rich ecosystem in order to offer qualified software and applications to its customers.
"We are particularly proud to hoist the colors of Europe in the global landscape of public cloud" said Michel Paulin, CEO of OVHcloud. "This recognition encourages us to further strengthen our strategy to invest in the development of sovereign and resilient solutions, but also to consolidate our ecosystem of solutions through our partnerships (OVHcloud Marketplace, OVHcloud Partner program, OVHcloud Startup program and the OpenTrusted Cloud program) to meet the needs of our customers in terms of software solutions and platforms."
The excerpt of the IDC MarketScape: Worldwide Public Cloud Infrastructure as a Service 2020 Vendor Assessment ( Doc #US46795720, September 2020) report can be viewed by clicking here.
About IDC MarketScape
IDC MarketScape vendor assessment model is designed to provide an overview of the competitive fitness of ICT (information and communications technology) suppliers in a given market. The research methodology utilizes a rigorous scoring methodology based on both qualitative and quantitative criteria that results in a single graphical illustration of each vendor's position within a given market. IDC MarketScape provides a clear framework in which the product and service offerings, capabilities and strategies, and current and future market success factors of IT and telecommunications vendors can be meaningfully compared. The framework also provides technology buyers with a 360-degree assessment of the strengths and weaknesses of current and prospective vendors.
About OVHcloud
OVHcloud is a global player and the leading European cloud provider operating 400,000 servers within its own 31 data centres across 4 continents. For 20 years, the Group has been leveraging an integrated model that provides full control of our value chain, from designing our servers to managing our data centres through to orchestrating our fibre-optic network. This unique approach enables OVHcloud to cover, independently, the full spectrum of use cases for our 1.5 million customers in more than 130 countries. OVHcloud now offers customers latest-generation solutions that combine high performance, predictable pricing and full data sovereignty to support their unfettered growth.
OVHcloud Press Contacts
press@ovchloud.com